March 25th-26th, 2023 experience a weekend of fitness-focused  competition on the white sands of Miami Beach. Presented by the City of Miami Beach, the HYROX MBFF is a multi-day fitness festival bringing together HYROX fitness competitions and exhibits as part of Miami Beach Live!
WHAT IS HYROX?
The only global race for everybody, HYROX, is an innovative & holistic approach to fitness that combines running and natural movements into a unique mass participation (semi)- indoor fitness competition. People from all around the globe compete in the exact same format for time, creating comparable world wide rankings in the sport of fitness.
Story
Taking the fitness world by storm, the HYROX race was inspired by millions of athletes around the world who consider fitness as their sport of choice. Until now there was no measurable fitness race for everybody. 50.000 participants have already gone before you in cities like London, New York, Madrid, Hamburg and Amsterdam. HYROX is the biggest Fitness Race in the world.
The circuit style race consists of 8 natural movement stations, with 1 kilometer of running before each. The 8 "workout stations" include: SkiErg, Sled Push, Sled Pull, Burpee Broad Jumps, Rowing, Farmers Carry, Sandbag Lunges, & Wall Balls. It is a mid-level endurance-strength event, taking on average 1.5-hour. There are 8 entry categories, 10 age divisions, no time caps, no qualifications. Creating athletes under the mantra "never stop competing", this is the race you are already training for!
METHODOLOGY
Innovation + Motivation = Results

HYROX has carefully selected 8 natural movement exercises in combination with running that will work every part of the body and your different energy systems. Although HYROX races are always comprised of these same exercises, the HYROX training methodology will introduce various bodyweight and equipment exercises that will prepare you for your HYROX and will ensure a varied, dynamic and safe training routine.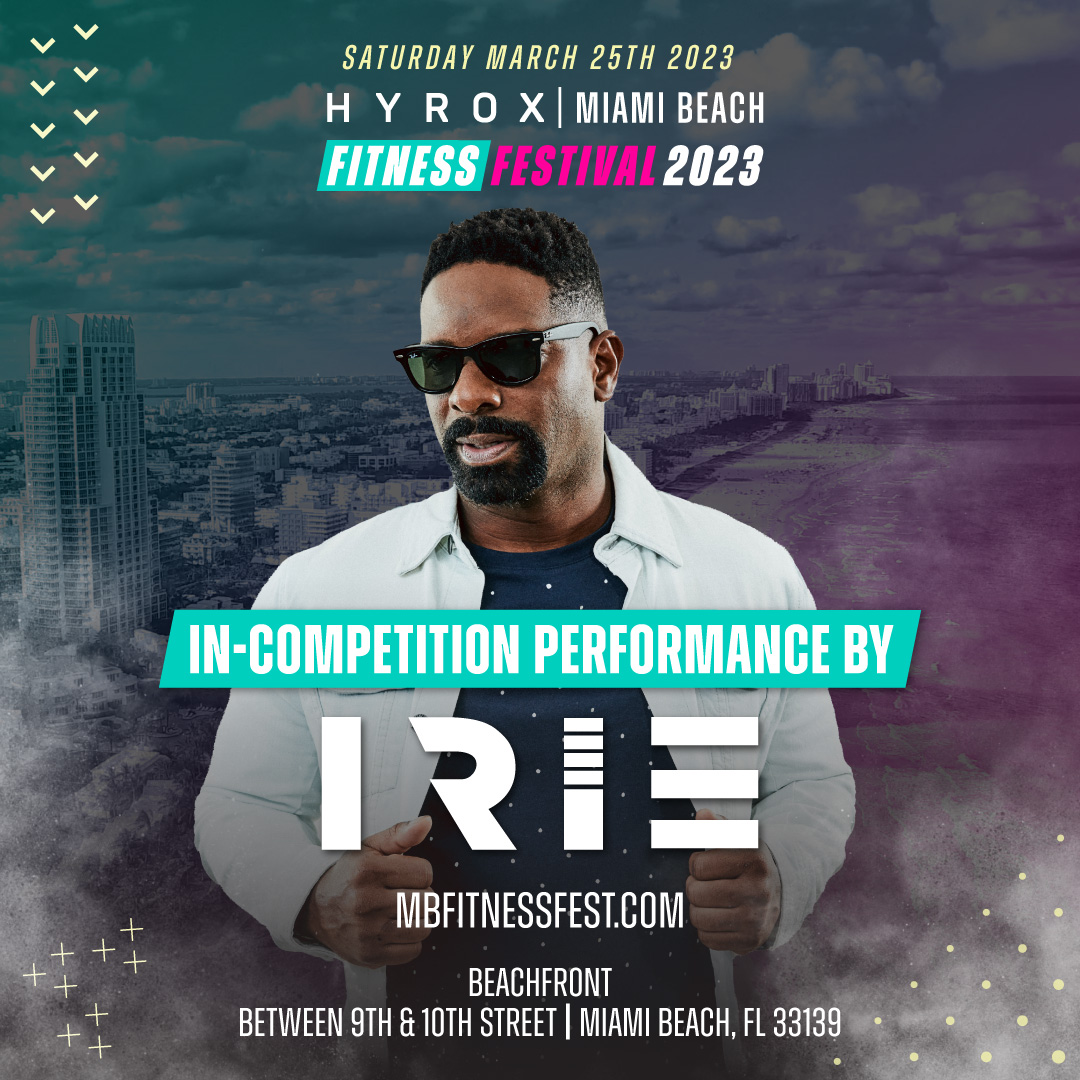 IN-COMPETITION PERFORMANCE BY DJ IRIE!
Saturday, March 25th, catch an in-competition performance by DJ Irie during the final stretch of the races providing that HYROX energy!